Top 25 Accredited Heart Hospitals from India
Best 25 Heart Hospitals from India | Top Heart Hospitals from India
Here is the list of "Top 25 Accredited Heart Hospitals from India"
A heart transplant is a surgical procedure where an unhealthy heart is transplanted with a healthier heart from a donor. This procedure is performed in an individual who has not recovered after medication or other surgical interventions.
Why heart transplant is performed?
Heart transplantation is done in individuals who have not responded well with other treatments, leading to heart failure. In young people heart failure occurs due to the following reasons:
Top 25 Accredited Heart Hospitals from India
O P Jindal Hospital is serving since 1968. NCJIMCARE & OPJICACRE is a 580 bedded multi-subspecialty hospital catering to medical needs of millions of people in rural Haryana, Punjab and adjoining areas of Rajasthan. It is spread in 15.5 Acres with multiple lush green lawns and patient friendly Ecosystem at Hisar,in Haryana Top Accredited Eye Care Organisations in Haryana.
Among the finest Cardiologists in the city, Avanti Institute Of Cardiology Pvt Ltd in Dhantoli, Nagpur is known for offering excellent patient care. The clinic is located centrally in Dhantoli, a prominent locality in the city. There is no dearth of public modes of transport to reach the clinic from all major areas of the city.
Read about: Top Cardiologists/Cardiac Surgeons in India
Shanti Memorial Hospital is a multi-specialty Medical Hospital situated in Cuttack. It was established in April 1991. It provides high-quality medical services at an effective price. It aims to provide the best services with honesty and transparency.
Apex Heart Institute is situated in Ahmedabad Best multi-specialty  15 accredited hospitals from Ahmedabad
city and it is one of the best Heart Hospital. It is also a global destination of cardiac patients from the globe specially USA and UK.
Ramesh Cardiac Hospital was established in 1996 in heart of Vijayawada in Andhra-Pradesh state. It is a multi-specialty hospital. It is spread in 75,000 sq. ft. It also conducts academic programs in Cardiology.
Tagore Hospital and Heart care center is a multi-specialty hospital located in the Jalandhar in Punjab. It was established in 1979 in Jalandhar. It firstly started heart surgery center in 1991 now known as Open heart surgery centre.
Delivering extraordinary healthcare services is a way of life at Gleneagles Global. It's something the hospital strives for, every day, for everyone!", is the core value of Gleneagles Global Hospital is a multi-super specialty hospital situated in Chennai. Gleneagles Global Hospitals aims to expand its leading market position as a destination for multi-organ transplant for patients from India, Middle East, Africa, and South East Asia.
An eminent cardiac surgeon, Dr. Naresh Trehan established India's largest and most prestigious multi-super specialty institute-Medanta The Medicity. The core idea behind Medanta is the provision of medical care with the highest standards, with utmost care and compassion. The 43 acres spread offers over 350 critical care beds, 45 operation theatres and houses overall 1,250 beds. Besides the primary cardiology services, all 32 institutes cater to over 20 healthcare procedures and specialties.
Kokilaben Dhirubhai Ambani Hospital & Medical Research Institute, Mumbai is a flagship tertiary healthcare center with a mission to raise India's global standing as a healthcare destination
It has set milestones in the healthcare Industry for over four decades. The hospitals are intrinsically bound by three integrated philosophies — Clinical Excellence, Ethical Conduct and Patient Centricity. These operating philosophies have been pivotal in making the hospitals grow and serve people who are in need of quality healthcare.
Asian Heart Institute, Mumbai is India's No. 1 Heart Care Hospital, has been set up with an aim to provide world-class cardiac care in India. In 13 years, we have treated more than 300,000 patients, and have completed over 35,000 angiographies and more than 20,000 heart surgeries.
Fortis Escorts Heart Institute (FEHI) is equipped with cutting-edge medical technology and highest clinical expertise. A center of excellence and a pioneer in cardiac care, FEHI is known for its service to the numerous heart patients. with a pool of internationally renowned specialists, FEHI has set path-breaking benchmarks in Minimally Invasive Surgery, Paediatric Cardiology/ Cardiac Surgery, Preventive Cardiology, Non-invasive Cardiology, Interventional Cardiology, and Cardiac Bypass Surgery.
Metro Hospital, Faridabad Best multi-specialty accredited hospitals from Faridabad was founded in 2002. Hospital is committed to providing excellent healthcare service for multi-specialty under one roof. Over the decades the hospital is growing in a specialty with the help of technology. The patient is their prime priority, with highly educated medical staff they are able to satisfy their patients. They believe in transparency, affordability, trust, patient care and commitment.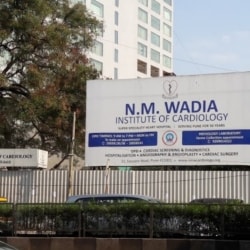 N.M. Wadia was established in 1966, as an Institute of Cardiology. Hospital believes in proving an end to end service of cardiology to their patients which includes lab test, angiography, angioplasty, open heart surgery, etc. The Hospital ensures that all the services, technology, and medical procedures are up to the standards. Hospital has performed multiple heart surgery with a high success rate, which helps to get patients trust.
Metro Hospitals & Heart Institute, Meerut, is a unit of Metro Group of Hospitals. The hospital offers unique expertise, technology, and excellent patient care. They have a dedicated team of medical experts who provide world-class health care services at the most affordable cost. They believe in transparency, which helps them to connect with their patients.
Sri Jayadeva Institute of Cardiology , is a tertiary care autonomous institute run by the Government of Karnataka, in Bangalore. It was founded in 1972.
Ivy Hospital was established a few years ago in Nawanshahr. It is a Super Specialty hospital offering world-class services in Anaesthesiology, Cardiology, Dental, ENT, General & Minimal Invasive Surgery, Gynaecology & Obstetrics, Internal Medicine, Orthopaedics, Psychiatry.
Heart & General Hospital is known for its cardiology and fertility care unit. Hospital has well-trained and educated medical expertise. Hospital uses advance and sterile operation equipment's. The hospital maintains a quality standard while performing any operations, which helps them to achieve a high success rate. Hospital believes in serving the best healthcare service at an affordable price. Within a few years hospital has gain patients trust, in both heart and fertility care unit.
Top 18 multi-specialty Hospitals from Jaipur
Bankers Heart Institute was established in 2004, the Bankers Group has expanded from a single, cardiac specialty hospital to 4 multi-specialty hospitals. With a mission of "Redefining Healthcare through Innovative Technologies with dedicated Human Touch." Bankers Heart Institute is growing day by day and providing advance medical healthcare services to its patients.
Baroda Heart Institute and Research Center was established on 11th March 2001. The hospital aims at providing comprehensive cardiac care. The Institute provides basic facilities in preventive cardiology supported through expert healthcare professionals.
Usha Mullapudi Cardiac Centre is a cardiology specialist Hospital. Hospital believes in providing all cardiology related treatment under one roof. Hospital connects with their patients with the help of technology and dedicated medical professionals. Doctors are well trained for emergency cases. Hospital as successfully performed multiple surgeries.
The Apollo Heart Institutes, New Delhi are regarded as one of the best heart hospitals. It is performing a multitude of treatments and procedures in cardiology. The scorecard shows an unmatched record of over 1,52,000 cardiac surgeries.
Manipal Hospitals is the largest healthcare brands in India. Present in 7 Indian cities and it has an international presence through two locations. It offers treatments and facilities across a wide range of specialties, including Cardiac Care, Renal Sciences, Cancer Care, Organ Transplants and many others.
The very first Transcatheter Aortic Valve Implantation in India, 12,000 angioplasty, 35,000 angiogram, 2.25 Lacs dialysis sessions alone in 2017, 2,976 renal transplants, 35 heart transplants and 2,976 renal transplants- everything is delivered as part of high quality and affordable healthcare services by the Narayana Health. Started with 225 operational beds, the group has established over 6,000 operational beds facilities. Narayana Health has proud presence with 7 heart centres, 23 hospitals, 19 primary care facilities across India along with an international hospital in the Cayman Islands. The group offers advanced levels of care in over 30 specialties.
'Care with Courtesy, Compassion, and Competence'; is the motto of Kerala Institute of Medical Sciences (KIMS). The facility constantly strives to provide quality care to each individual. KIMS is one of the first hospitals in India having National & International accreditations. the Group has 7 internationally accredited centers and 5 nationally accredited facilities like National Accreditation Board for Hospitals (NABH), Australian Council on Healthcare Standards International (ACHSI) accreditation and National Accreditation Board for Testing and Calibration of Laboratories (NABL).
Cardiology: Types and Procedures
#cardiacbypasssurgery #cardiology #cardiomyoplasty #coronaryangioplasty #hearthospitals #hearttransplant